Back
uppercase JFK Check-in Eco Soft Trolley Bag Medium Size, Travel Suitcase (Red) 7100EST1RED
Introducing the uppercase JFK Check-in Eco Soft Medium Size Trolley Bag in Red, the perfect travel companion that revolutionizes soft trolleys. Say goodbye to boring and ordinary bags and welcome a stylish, functional, and sustainable solution for your travel needs.
Our innovative soft luggage printed trolley bag is equipped with 8 wheels, providing effortless mobility and smooth rolling in any direction. Whether you're navigating busy airports or bustling hotel lobbies, this bag makes your travel experience a breeze.
Designed with your convenience in mind, this bag offers a laundry compartment, allowing you to keep your clean and dirty clothes separate and organized. Say goodbye to mixing up your outfits during your trip.
We prioritize sustainability, and this bag is made from eco-friendly materials, ensuring you're making an environmentally conscious choice. Travel with confidence, knowing you're reducing your carbon footprint.
Upgrade your travel gear with the uppercase JFK Check-in Eco Soft Medium Size Trolley Bag. Experience the perfect blend of style, functionality, and sustainability. It's time to make a statement and redefine your travel experience.
---
Minimum 50% Recycled Material
Free shipping and Easy 15 days return & exchange available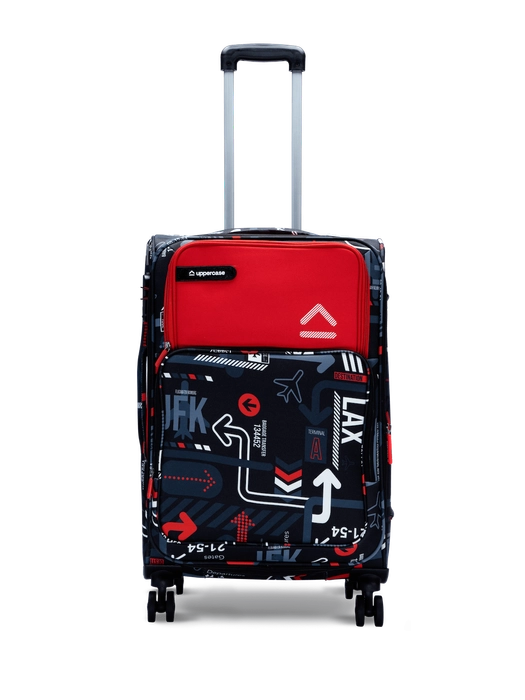 Total Contribution
Made by our Customers
3,143 K
Grams of Carbon Saved
50,117
Plastic Bottles Saved
630 K
ML of Oil Conserved
---
Your Contribution
Move the slider, to view your contribution for the nature!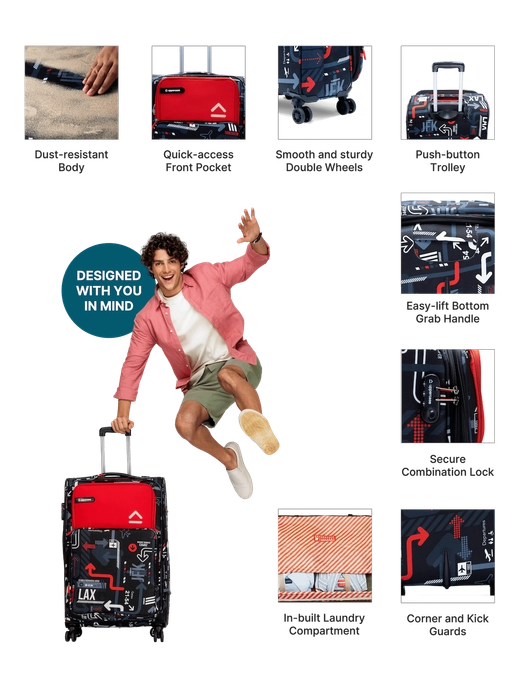 Designed with Care
The 8 wheels provide smooth and seamless movement, making it easy to navigate through crowded airports and busy streets. Plus, with a range of vibrant and eye-catching prints, our bag is sure to make a statement wherever you go. There is quick access front pocket in front of this luggage bag for last minute packing and a larger front pocket for wet items/slippers. Suitcase has a dust resistant body and there are corner and kick guards for extra protection. Cushioned integrated top and side handles makes this trolley bag a comfortable and perfect travel partner.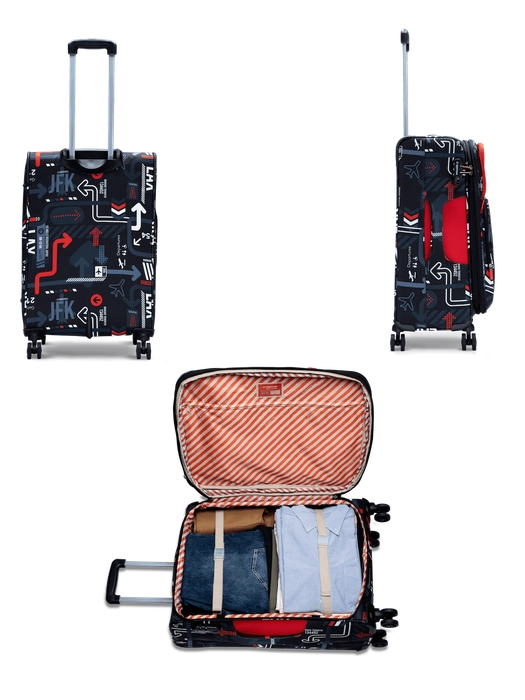 Features that Stand Out!
"Our bag's unique design includes a full expander for additional space, allowing you to pack all your essentials and more. Plus, with the built-in laundry compartment, you can separate your dirty clothes from your clean ones, ensuring that your luggage stays organized and hygienic throughout your trip. We understand that lifting heavy luggage can be a challenge, which is why we've added an easy lift grab handle at the bottom of the bag. This feature allows you to effortlessly lift and load your luggage into cars, overhead compartments, or onto luggage carts without straining your back."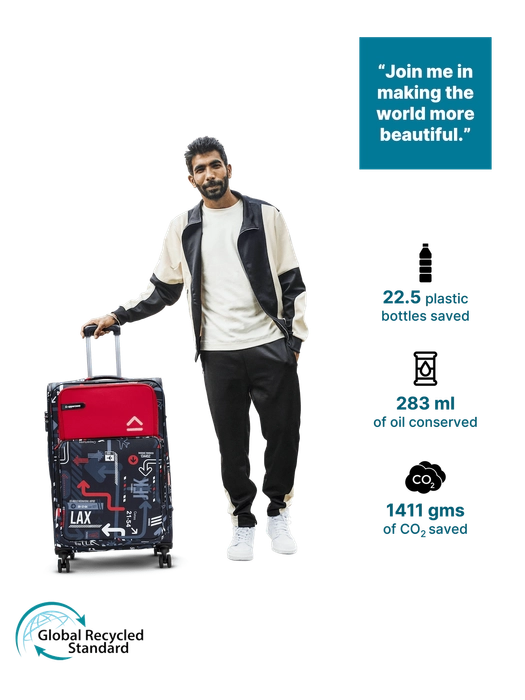 Designed for good - A Promise of Sustainable and Ethical Production
Made of premium quality recycled material. Each part of the bag goes through a series of quality tests to ensure we are delivering the best to you. With the purchase of any uppercase product, you just partnered with us in lowering your carbon footprint and making the world a bit more beautiful.
Know your product
uppercase is committed to partnering with you in building a world more beautiful. All our products are made from sustainable materials and are GRS (Global Recycle Standard) certified. Our manufacturing processes conform to the highest and most stringent GRS criteria. Popular Tags: trolley bag medium size | trolley bag medium size price | medium size red trolley bags
Warranty of 2500 days is provided.
Dimension & Information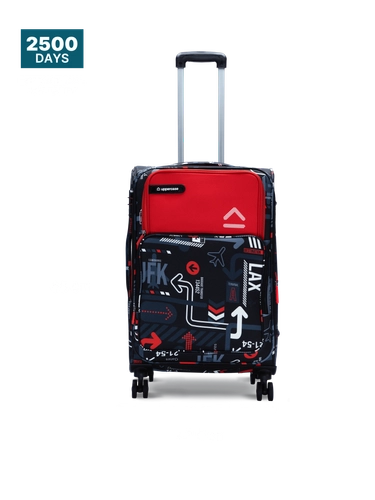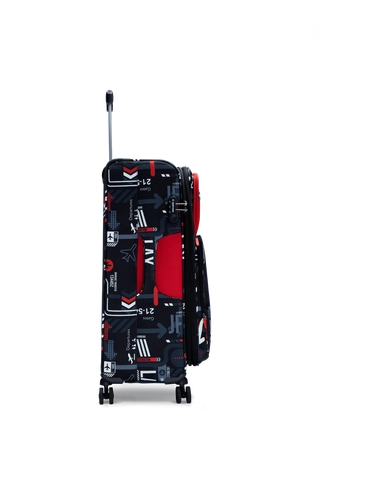 Material
Recycled Polyster